Metrc Tags
Everything you need to know about your Plant and Package Tags
Ordering Tags in Metrc is a simple process however it is very important to pay close attention when placing your order. Once a tag order is submitted it can only be canceled before 7 pm CST on the day that you place the order. Metrc tags are custom printed for each facility and cannot be returned once the printing process has begun and are non-refundable; so, it is strongly advised that you be sure orders are placed for the correct facility, amount and type of tags required. Additional notes about tag ordering:
Tags are ordered from the Admin function
Tags can be ordered via Credit Card, check or money order
Payment information is not required to be the licensee or the business owner
Each facility must have billing information entered. You can choose to ship to a different location (No PO Boxes).
Tags will be sent by UPS.
Tag costs are listed in your State's Supplemental under the Support Tab.
You can request expedited shipping if you would like at an additional expense. The options are UPS Next Day Air and 2nd Day Air. In some areas UPS will deliver on Saturday's, this is an additional expense on top of the Expedited charge. Please contact the support line at [email protected] or 877-566-6506 to expedite your tag order as soon as you have completed the order. Expedited shipping is not available in all states.
Please note if you place an order for Expedited Next Day or 2nd Day air it will not print or ship until the next business day. For example: An order placed on Monday will print and ship Tuesday arriving Wednesday with Next day air or Thursday with 2nd day air. If you order on a Thursday it will print and ship Friday and arrive Monday with Next Day Air or Tuesday with 2nd Day air. Nothing will ever print or ship of the day of an order. All orders are printed on Monday through Friday. No printing or shipping on weekends or major holidays.

Item 1: Order History  | This will show all of the details on previously placed orders. See tag order history screen for more details.

Item 2: New Tag Order button|  New Tag Order button is used to begin a new tag order process. © 2019 Metrc LLC. 23

Item 3: Order Number|  Order Number shows the specific Order Number created once the order is completed.

Item 4: Order Date  | Tag Order Date shows the time the order was placed into Metrc.

Item 5:Status  | Status shows the current status of an order. Order status can be: Pending (waiting on payment), Paid, Printing, Printed or Shipped.

Item 6: Total  | Total is the total amount of the order including shipping.

Item 7: Amount Paid  | Amount Paid is the total amount paid for the Tag Order.

Item 8: Tracking Number | Tracking Number will display the UPS tracking number(s) of the order.

Item 9: User  | User shows the name of the person who placed the order.

Item 10: Invoice button  | Invoice will download a PDF of the tag order's invoice.

Item 11: Receive | When orders have been shipped and physically received you will need to receive the tags into your Metrc account by selecting the receive tags button. By selecting this button, the tag ID numbers will show in your Metrc account in the pull-down menus in the tag areas.
Please Note:
• When an order has just recently been placed, there will also be a Payment button and a Void button.
• Payment button: Allows you to select or alter the method of payment up until it says "printing" on the tag order screen.
• Void button: Void button is used to void a current order. If you choose to void a tag order it must be done before 7pm CST on the day that you place the order.
New Tag Orders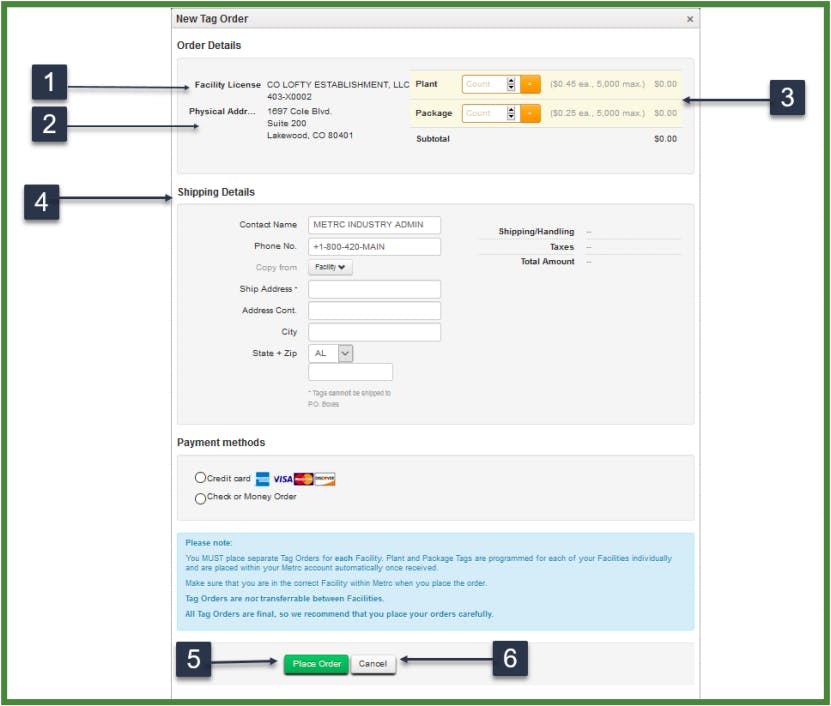 While ordering tags in Metrc is a straightforward process, it is important to pay close attention and check your information before placing an order. Metrc tags are custom printed for each facility; as such, orders cannot be cancelled once the printing process has begun and are non-returnable. Pay close attention to the facility, amount of tags, and type of tags being ordered, double-checking your information before hitting the Place Order button.
Item 1: Facility License #  |  Facility License # will be auto-populated based on the facility you are currently working in.
Item 2: Physical Address  |  The Physical Address of the facility is auto populated with the facility address on file with the State.
Item 3: Plant and/or Package Tag Amount  |  Enter the number of Plant Tags you'd like to order (Cultivations only) and/or the number of Package Tags you'd like to order.
Item 4: Shipping Details  |  Enter your preferred shipping address.
Item 5: Place Order button  |  Click the Place Order button after you have verified your information is correct to submit the order.
Item 6: Cancel button  |  Click this button to exit the screen without saving any data.