Note: If you have not completed your Metrc training, please reference this guide on scheduling your Metrc Training



So, you've completed your Metrc Training and are ready to dive-in, but first you need your login credentials. Below is a step-by-step guide provided by Metrc directly to help walk you through next steps.
*** Each step includes specific windows of time allowed to complete, so please be sure to pay attention to the timelines provided to avoid any additional steps.


First-Time Credentialing
Licensees New to Metrc: Please follow the steps below to gain initial access to the Metrc system.
When at least one business owner or designated manager completes the new business training course (instructions for signup are located on the previous page), the business owner must send an e-mail to [email protected] requesting log-in credentials. The e-mail MUST contain the following:
Subject Line: "Requesting OK Credentials"
Body of E-mail: In the body of the e-mail, please include:
Your full name
Your OK Medical Marijuana License Number
The name of your business and DBA if applicable
The best phone number to reach you at
The email address where you'd like your "Welcome to Metrc" email to be sent
Your information will be reviewed within 48 hours, or by the following Monday if you've sent the information in on a Friday. You will then receive a "Welcome to Metrc" e-mail like the one below. You MUST LOGIN WITHIN 24 HOURS of receiving the email.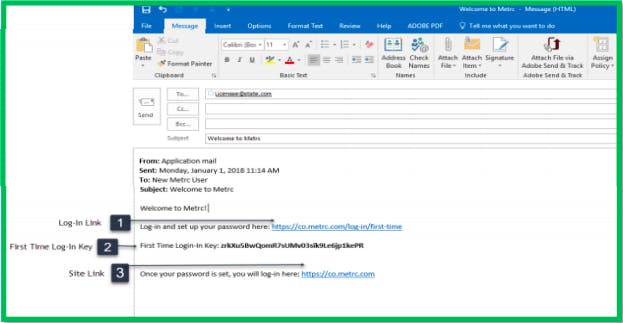 This e-mail contains your log-in link and a temporary password that will allow you to access Metrc and set up your account. The First-Time Login Key expires 24 hours after receiving.
You must log in to Metrc within 24 hours of when the link was sent!
Item 1: Log-in Link
https://OK.metrc.com/log-in/first-time
This link will take you to the first-time login page, where you can use your key and temporary password to log in.
Item 2: First Time Log-in Key
This first-time log-in key can only be used once, and it must be used within 24 hours of when the "Welcome to Metrc" email is sent.
Item 3: Site Link
Use this link to navigate to the main login screen and create a bookmark on your device.
The first credentialing request must come from an owner or designated manager, who will be assigned as the facility admin. The facility admin can then request to have the admin changed if needed. During the training and credentialing timeframe, admins will be able to add Employees, Strains (if applicable), Items, and Locations (rooms or areas inside their licensed facility). Once the beginning inventory period starts, licensees will be able to order tags and begin entering initial inventory into Metrc.

To contact Metrc support for Metrc-related questions or for assistance on training signup and/or credentialing:
[email protected] or 877-566-6506

To contact the Oklahoma Medical Marijuana Authority Compliance Division for any regulatory, facility location, and/or compliance questions, email [email protected]